All these while I never had the luxury of having a maid (that is only if you call sometimes having a maid brings its own difficulties). Finally from this month I have lady who comes and cleans the house watches the vessel.

So now I don't come back home of thinking the work at home
J
. I feel that I have lot of time for myself.
The continuous two weeks long weekend gave a good break from office and had a good time with my little one and pampering from amma, fights with brothers what else do you need in life…I feel that is haven for me.

Amma always makes sure that when we are all at home she cooks the traditional seasonal food. So this time she prepared the authentic Patrode. This can be prepared on various ways. Here is how we prepare at home. For more information please check
HERE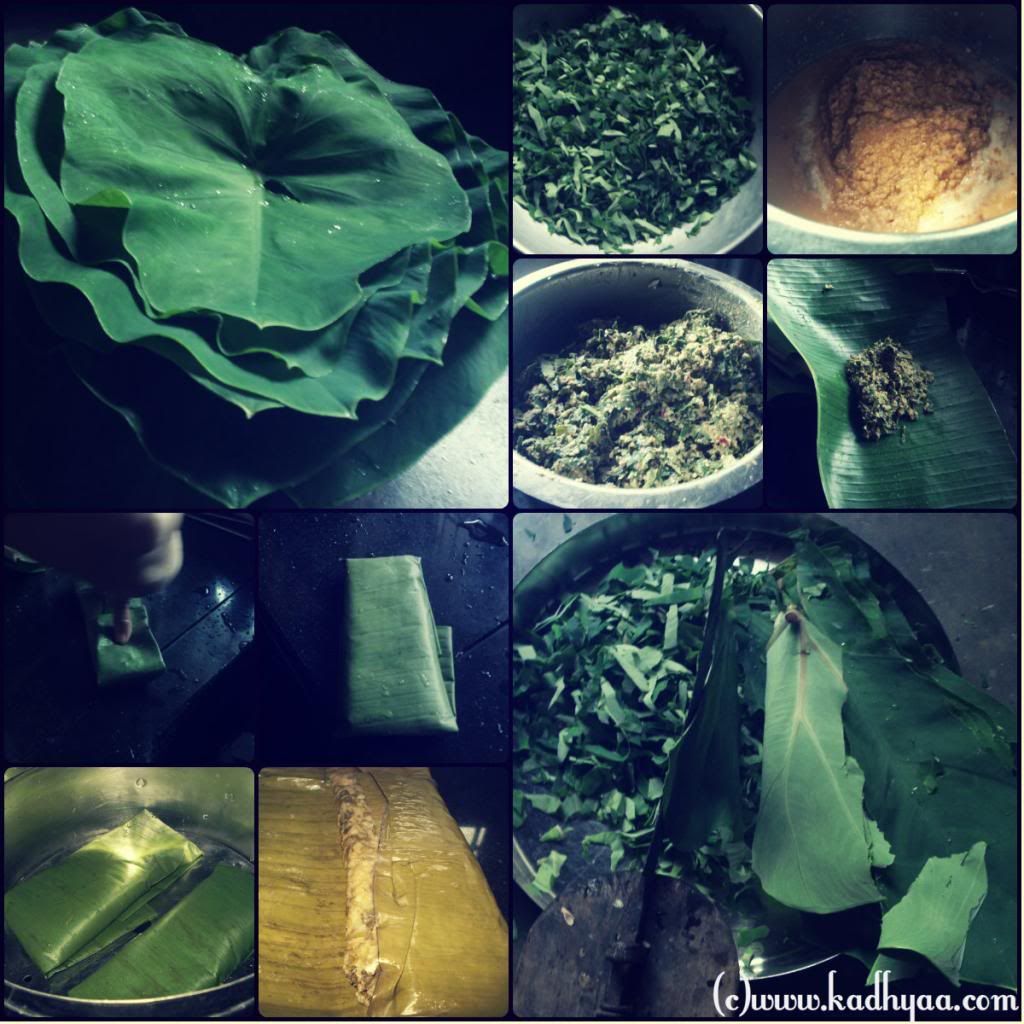 Kesuvina/
Colocasia
Patrode/Patra| How to Make Traditional Patra
Preparation Time: 45 minutes (apart from the rice soaking time)
Shelf Time: 2-5 days if refrigerated
Ingredients for the Steamed Patra
10-12 Kesu/Colocasia Leaves
1.5 tsp jeera/cumin seeds
Cooking Utensils required
Steam cooker/Regular pressure cooker without the weight
2 kadubus (each Patra rapped in banana leaf and steam cooked) mashed
2 strands of curry leaves
Wash and chop the Patra leaves and set aside. Soak the rice for about 4-6 hrs. And then add all the ingredients under the "Ingredients for the Steamed Patra" and grind into a coarse paste as shown in picture 2. Keep it aside.
Meanwhile take the banana leaf and hold it in the gas flame so that it doesn't tear and becomes flexible to fold and hold the dish. Add the chopped Kesu/Colocasia leaves to the grinded batter mix well.
Take one piece of the banana leaf and put 1.5 ladles of the batter and fold it as shown in the picture 2. Once all are done then put it for steam cook which almost takes 45-1 hour in low flame.
Mash or make pieces of the steamed Patrode and keep aside. Grate coconut and mix with the grated jaggery and keep aside.
Heat oil in a kadai and add all the ingredients except the above mixture and the curry leaves. Once the mustard starts spluttering add the curry leaves and the mixed Patra mix and heat until its warm.
Serve hot for breakfast/lunch /dinner.