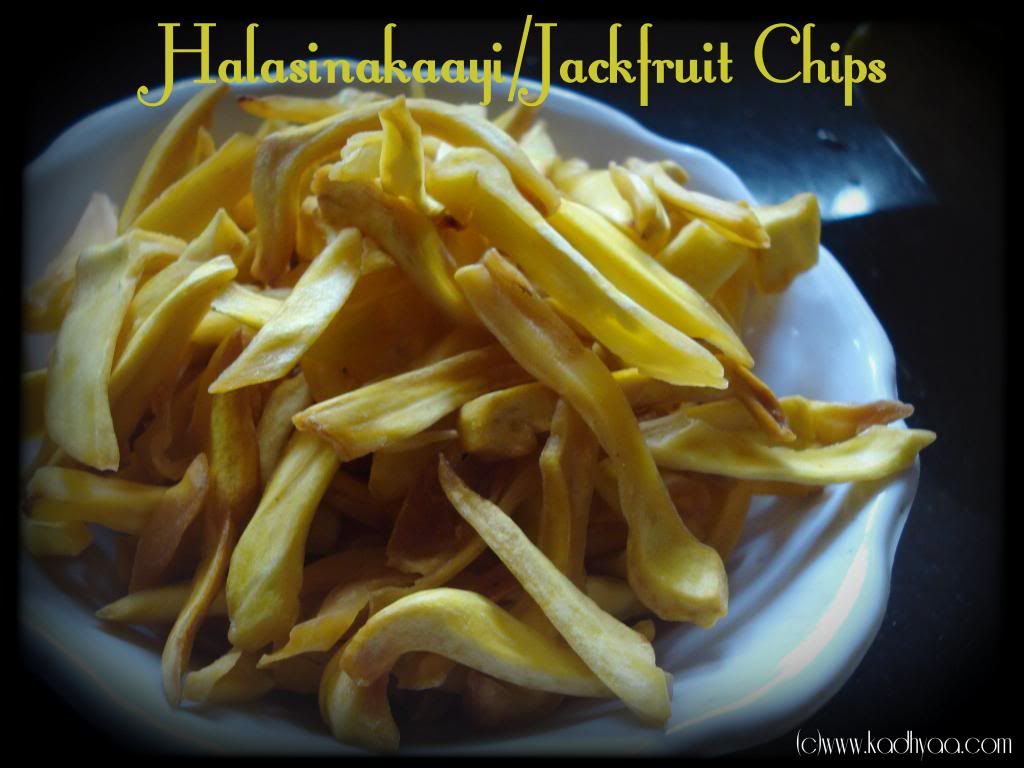 I am quite sure that there is hardly anybody who hasn't tasted this delicacy and also once tasted cannot stop munching it. This is what happened when I went to my native place last time. Summer temperature is really bad but the season brings home and we lot of fruits, delicacies along with it.
Going back to my childhood summer was painful for me. These were the days when I hated going into kitchen and helping my amma. So anything that relates to cooking was a pain. Once we are in summer there were so many preserves needs to be done which be used at the later days of the year these were Mambala (fresh home grown mango pulp sundried and kept it), Jack fruit papad of both ripe and non-ripe, jackfruit Chips, jackfruit & mango in brine (jackfruit kept in salt water)and the list is on..
My today's recipe is one of such recipe –Jackfruit chips. The work behind this snack is quite heavier side as my amma used to make in a lot and keep it in air tight jar so that we could enjoy it through the summer.
Jackfruit/Halasinakaayi Chips-Deep Fried Jackfruit Fingers
Cooking Time: 15 min (batch wise)
Difficulty Level: Easy-Medium
Shelf Life: Up to 20 days stored in airtight jar
I medium size jackfruit sliced into medium fingers*
1 /2 cup (as per requirement) Concentrated salt water
Separate jackfruit seed and other throw able parts from jackfruit and slice into medium size fingers and keep aside.
Prepare the salt water concentration and keep aside. Keep take a deep bandli/kadai and heat oil in it. Once the oil starts leaving the smoke slowly add the sliced jackfruit fingers in it and let it cook in the oil for about 10 minutes. After 10 minutes add 1.5 tsp of salt water and mix well.
Once the bubbling in the oil stops/the chips starts floating above the oil the chips ready to be removed. Put it in a tissue to remove off the extra oil. Once it is in the room temperature put it in the air tight jar.
* The jackfruit used should not be tender one and not ripe also it should be in between this stage