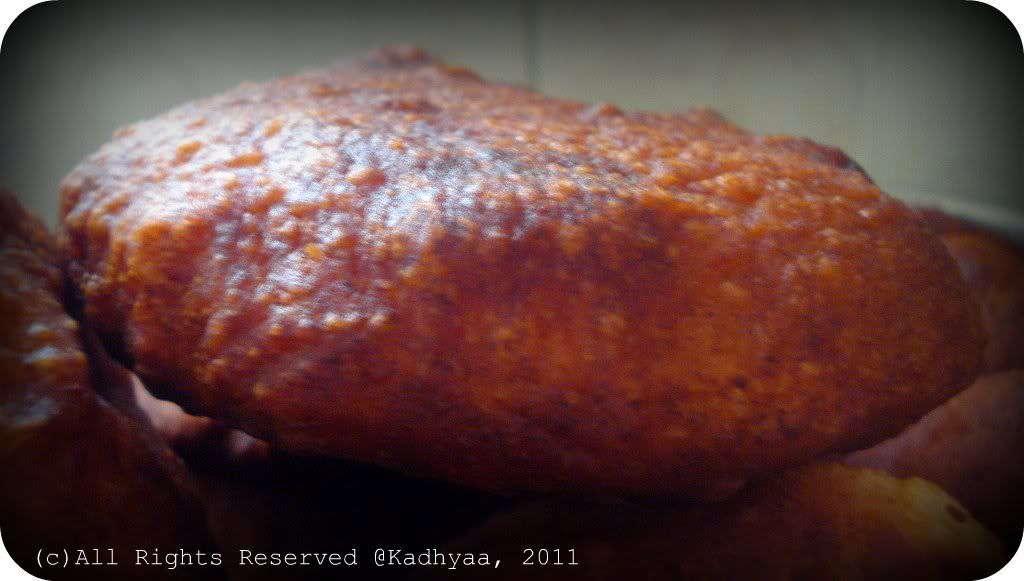 I know the caption of this dish is very deceiving. Bun /buns is always baked and how come this is deep fried ???Eye brows raised .....
I am addicted to deep frying now otherwise not so found of deep fried items , this chill weather has made to fry lot of items. Today I am posting an authentic Mangalorean cuisine which is very yummy, and simple to make with minimal ingredients. The name of the dish is Buns. Basically this dish is made out of APF kneeded with Banana and curd and deep fried. This is sweet in taste. This dish can be used as morning breakfast, evening snack so to say a versatile dish. usually served with sambhaar/ chutney.
This dish can be found in all the Udupi / Mangalore based fast food joints in Bangalore.

Buns- APF kneaded with Banana, Yoghurt, Sugar & Deep Fried
Resting Time: 1/2 hr to 1 hr
Best served with: Sambhaar/ Chutney/ Coffee/Tea
Best Before: immediately or till next day
2 cups All Purpose Flour / Maida
4-6 well ripped banana (I used elaichi/ kadali variety)
1 cup thick lightly sour curd
1.5 tsp jeera / cumin seeds
1/ 4 tsp Cooking Soda / Bicorb (Optional)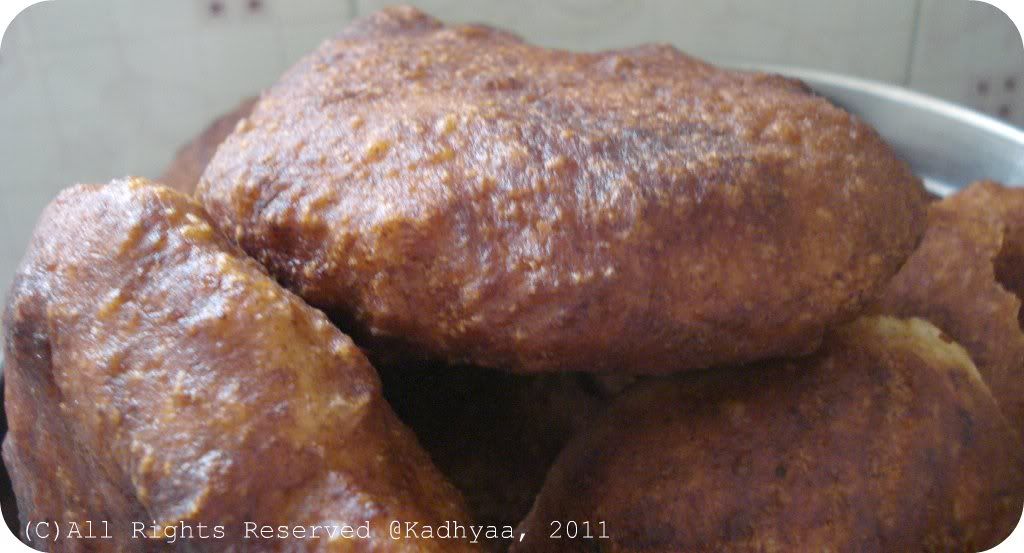 Sieve together salt, APF, and keep it aside. Peel the banana and puree it in a blender. Make a hole in the center of the flour mixture and slowly add the curd, banana puree and jeera seeds and mix slowly with the tip of your hand.
The dough should be of chapatti consistency. Let the dough rest at least for half hour for the best result. Make medium sized balls from the dough and roll it into small rounds. The rounds should not too thick nor too thin.
Heat the oil. The flame should be medium. Fry till you get deep brown colour.
Notes:
if the curd is sour do not add cooking soda. I omitted it.
Cook always in medium flame otherwise the insides does not cook well.
uns should not be too sweet milder sweet and served with spicy curry / chutney