It was my cousins lil one's Bday last saturday so we had gala time at our native place, entire place in under one roof was full fun and lot of food, gossips, and lot more fun. The only one request of everybody was to have Onion Pakoda..
The recipe of this recipe varies from place to place. This time I adopted the resturant style and it came out really nice. SO sharing with you this recipe.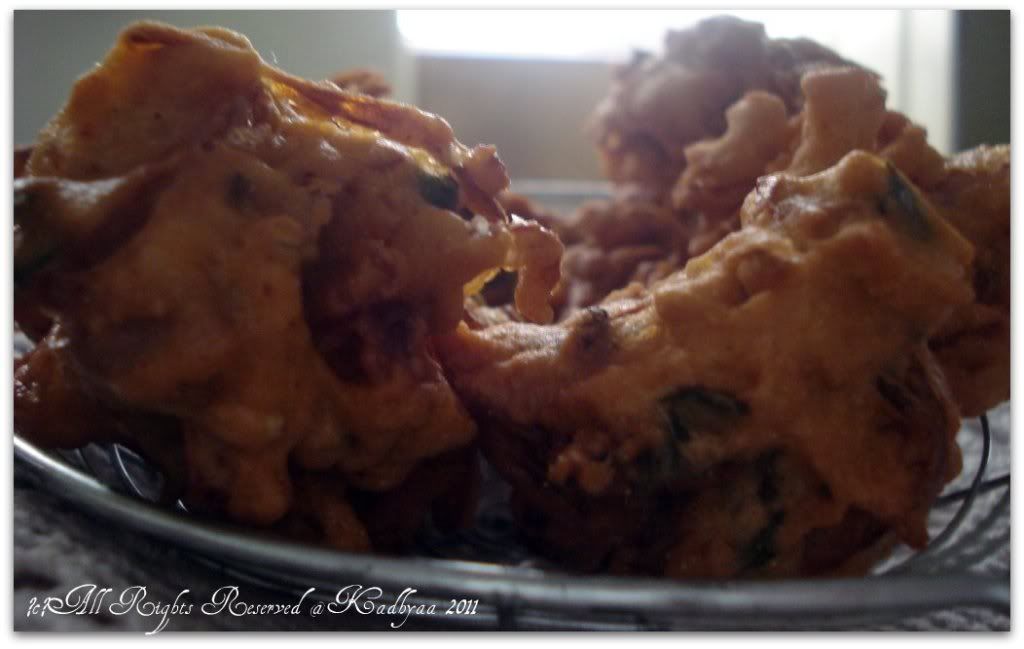 Restaurant Style Onion Pakoda
Difficulty Level: Easy- Medium
Served with: Coffee, Chutney
2 large onions slice lengthwise
4 green chillies slit lengthwise
4-5 strands of curry leaves
A pinch Edible red food colour (optional)
A pinch of hing/ asafoetida
Slice the onions lengthwise, and put it in a vessel along with the curry leaves & green chillies and add salt, sugar, red chilli powder, turmeric powder, coriander seeds and mix well and let it sit for about 10 minutes till the moisture from onion leaves.
Sieve the Besan and keep it aside, to this add the rice flour nicely and slowly add this to the mixed onion vessel and mix well with your finger tips without adding water and slowly add the water if required. The batter should be thick consistency to form shapes of bonda/ bajji.
Heat the oil and to it add the formed bajji's and fry till nice brown colour.