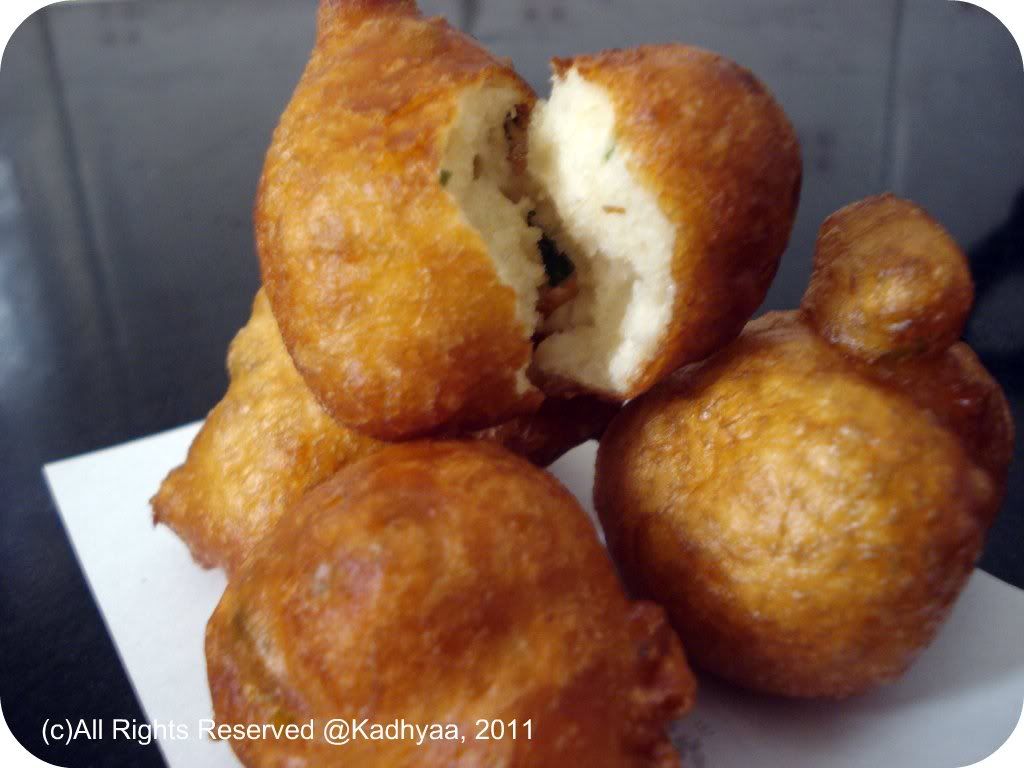 I am hooked to deep frying now and I didnt realise this till my hubby pointed out last night. But he has been enjoying all the fried stuff. the previous and today's recipe is an exclusive of Mangalore speacial. Though you do find it here in Bangalore it wont be that authentic as we get in Mangalore.
Today's recipe is a simple one with APF mixed with sour curd and cooking soda and deep fried. But this is one of the delicasy. simply irristible. The best place in Mangalore to get this is Hotel Woodlands, near Jyothi. this hotel was our frequent visit when in collge. they have both dine in and drive through facility and evenings it always a block, due to all this bajjis and bondas.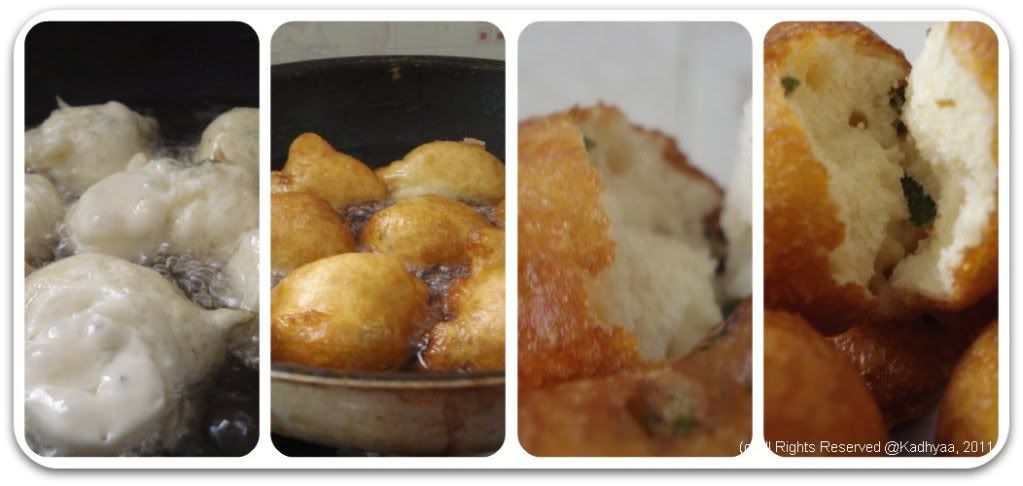 (diffrent stage wise of cooking)
Golibaje- APF Flour Mixed with Curd & Spices and Deep Fried
Preparation Time: 10 min (excusive of resting time)
Shelf Life: Immediately / Next Day
Served with: Coconut Chutney/ Tea/ Coffee
3/4 cup sour curd /buttermilk
4 strands curry leaves chopped
Sieve cooking soda APF together and keep it aside. In a vessel add the chopped curry leaves, salt, sugar and chillies. To this add the flour mixture and mix well. Make a hole in the center of the flour mixture and slowly incorporate the curd and mix well. The flour should be pouring consistency.

Increase the curd if required. Do not use water to knead the batter.

Let the batter rest at least for an hour for the best results.
Heat the oil in medium flame and to this pour one tbsp full of batter directly to the oil and you see it forms a round shape. Fry till it becomes brown. Remove from oil and put it in a tissue to remove that extra oil.