Weather is so perfect for the hot soups and hot coffee. I dont feel like having anything else. Earlier I was not a soup person and the only soup I used have was sweet corn . Now I dont the reason for liking towards it. I feel as we grow old the taste towards food also changes I guess.
Me and hubby always love to have one pot meal which is always time saving comforting and after a long day at work is always welcome. Here is a simple Grilled Tomato Soup which I made last night, suprisingly even my lilttle one loved it too. This soup does not contain oil, cream , milk.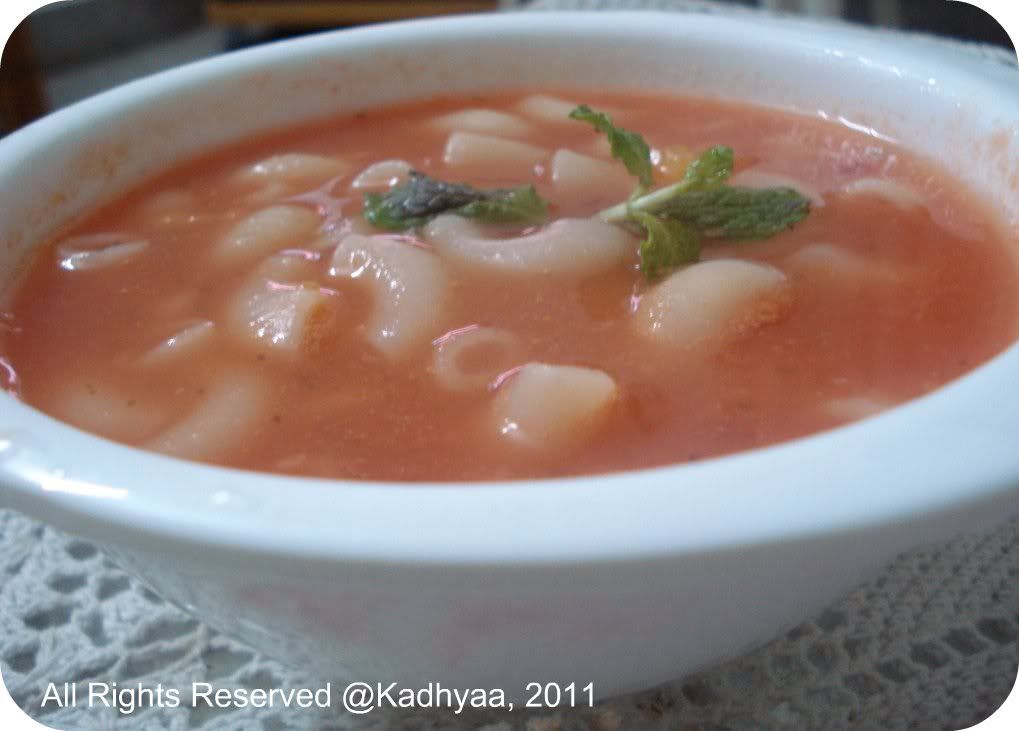 Fat Free Grilled Tomato Soup with Macaroni
Served With: Garlic Bread, Rolls
1 tsp dried pizza seasoning / dried Thyme & Oregano
Preheat the oven and wash and pat dry the tomatoes and lightly brush oil on the outer skin of the tomato to avoid burning. Grill it for 15 minutes/ till the outer skin shrinks. Take it out and let it come to room temperature. Peel of the skin and cut it into big chunks and put it in a blender and grind it into smooth puree.
Cook the Macaroni according to the packet instruction and with little salt and little oil. Once cooked run it under the cold water and keep it aside.
Take a non stick kadai and to it add the tomato puree and add 1.5 cups of water and bring it to boil. Then add the Macaroni, ketchup, salt, chilli flakes, seasoning and mix well and let it simmer in low flame for about ten minutes.