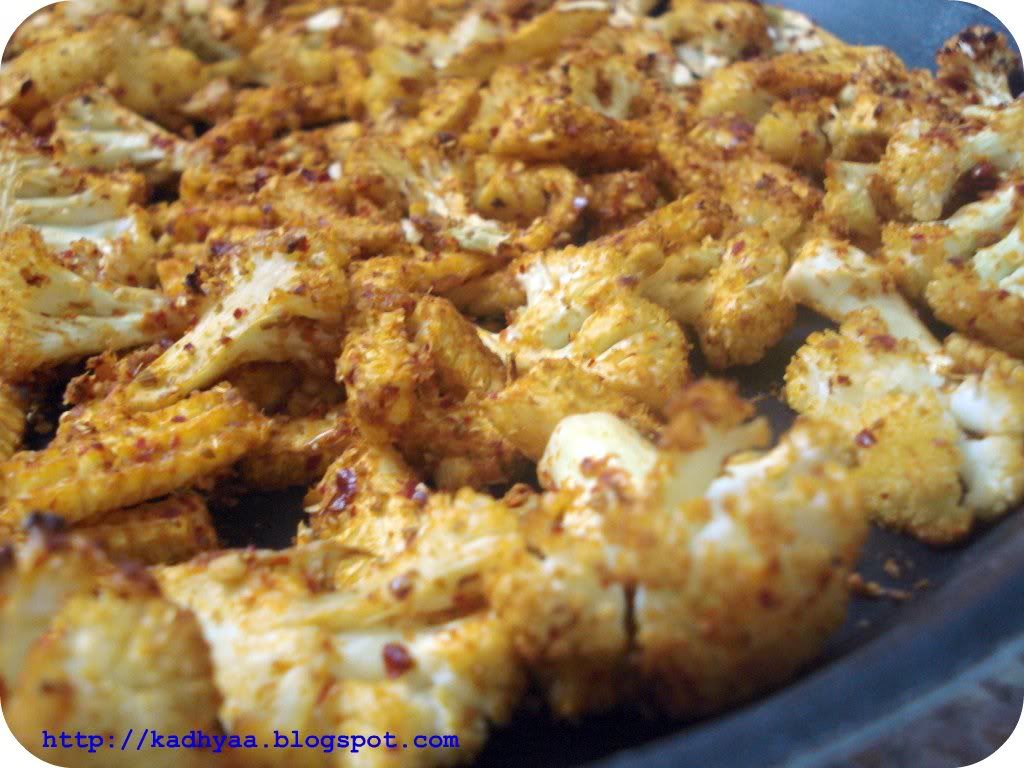 It is a kind of confirmed that we have entered winter finally though it isnt very chill and everything but I would say a pleasent weather to have soups, coffees and of course the deep fried items. As I have told you my lil one loves gobi so I tried this recipe and ofcourse the recipe what i have posted is our version I omitted the masala part to him I just added butter salt & pepper corn to him. Which he loved eating.

Spicy Gobi/Cauliflower & Baby Corn – Gobi & Baby
corn Marinated in South Indian Spices & Baked
1.5 cup Cauliflower/ Gobi
1 tsp each of (coriander, cumin powder)
1 /2 tsp ginger garlic paste
1/2 tsp red chilli powder
1 tsp lime juice / amchoor powder
Preheat the oven at 180 degree c. Grease a plate with flour/ butter and keep it aside.
Clean and wash the veggies and pat it dry in a kitchen towel. In a large vessel put all the masala mentioned under the "for marinating" and add the veggies and mix well (pls note melt the better to coat well with the masala and veggies. Close the lid and let it sit in the fridge for about an hour
Put the marinated veggies in the greased plate and bake it for 30 minutes / until both the veggies is crisp.
Serve hot with steamed rice/ Indian flat bread