The weather is playing a very weird game in here..Its raining every afternoon onwards and nights are very chilled. I enjoy rainy days like anything but at this time of the year rain is not so welcome.yesterday by the time I reached home I wanted a cup of hot soup to comfort by body and mind.
I found fresh palak and corriander leaves in the fridge. I didnt want to chop any vegetables and lot of ground work. So prepared this soup.
Palak & Coriander Leaves Soup
Difficulty Level: Easy –Medium
1 /2 cup chopped coriander leaves
4-5 cloves garlic chopped
1 /2 cup milk / cream (full cream)
1/ 2 -1 tsp chilli flakes / 1 medium green chilli
1tsp pizza seasoning
2 tbsp butter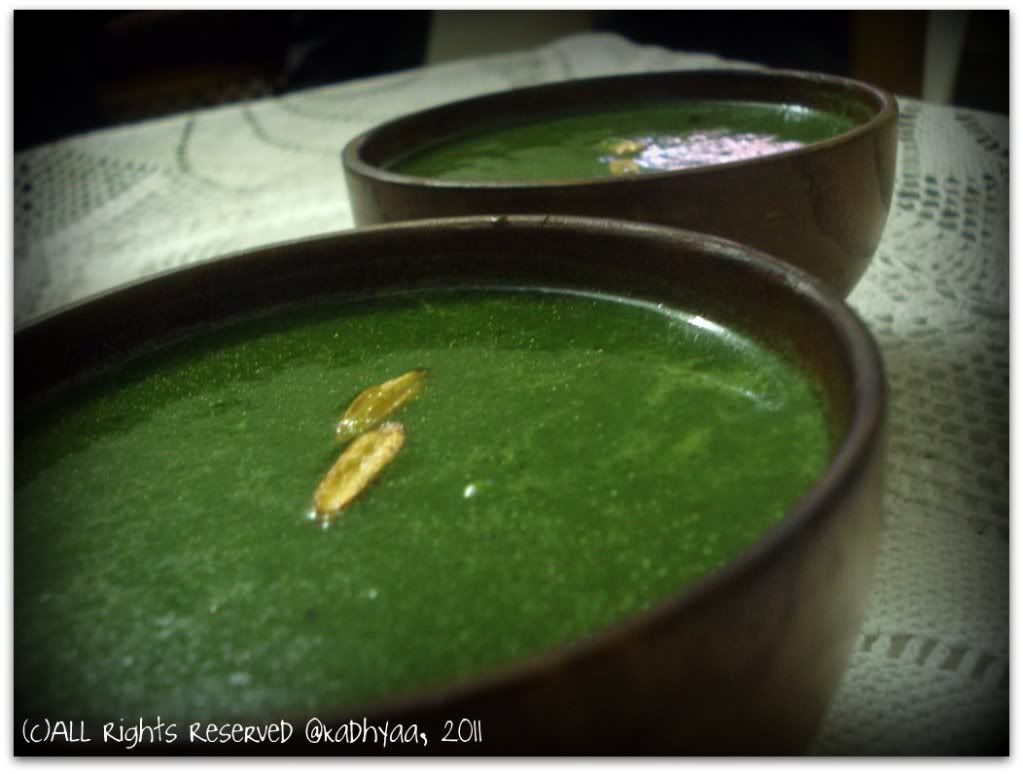 Wash and keep aside the greens separately. Blanch the Palak leaves in microwave in HIGH for 3 minutes. Add the greens, onions, (green chilli if using) in a blender and make it a puree.
Take a pan and heat the butter in it. Once the butter is heated add the chopped garlic and let it become brown. To it add the pureed Palak & Coriander. Let it boil for a while and meanwhile you add the salt, chilli flakes (if you have added the green chilli then omit this one). Let it boil in medium flame.
Once the puree boiled add in the milk / cream and let it boil for another 5 minutes. Lastly add the pizza seasoning.