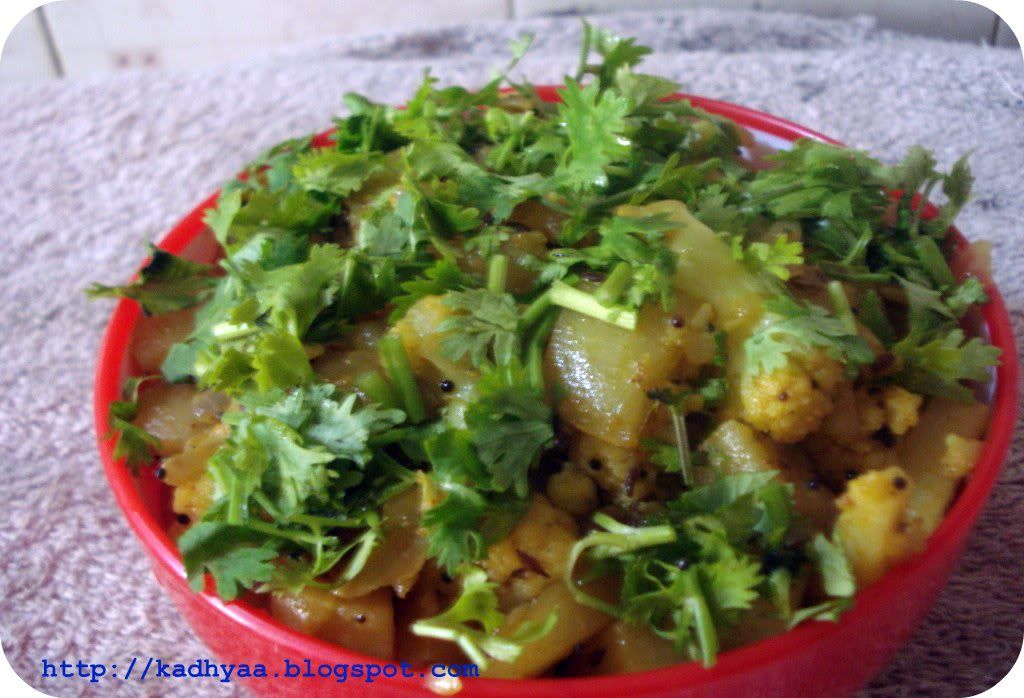 My family is a full fleged rice eater chapati is very rare at home. So my cooking most of the time limited to the south Indian curries. Recently I found out that my lil one loves gobi and aloo a lot . I prepared this simple dry sabji which came out very well and my lilttle one njoyed it with his curd rice.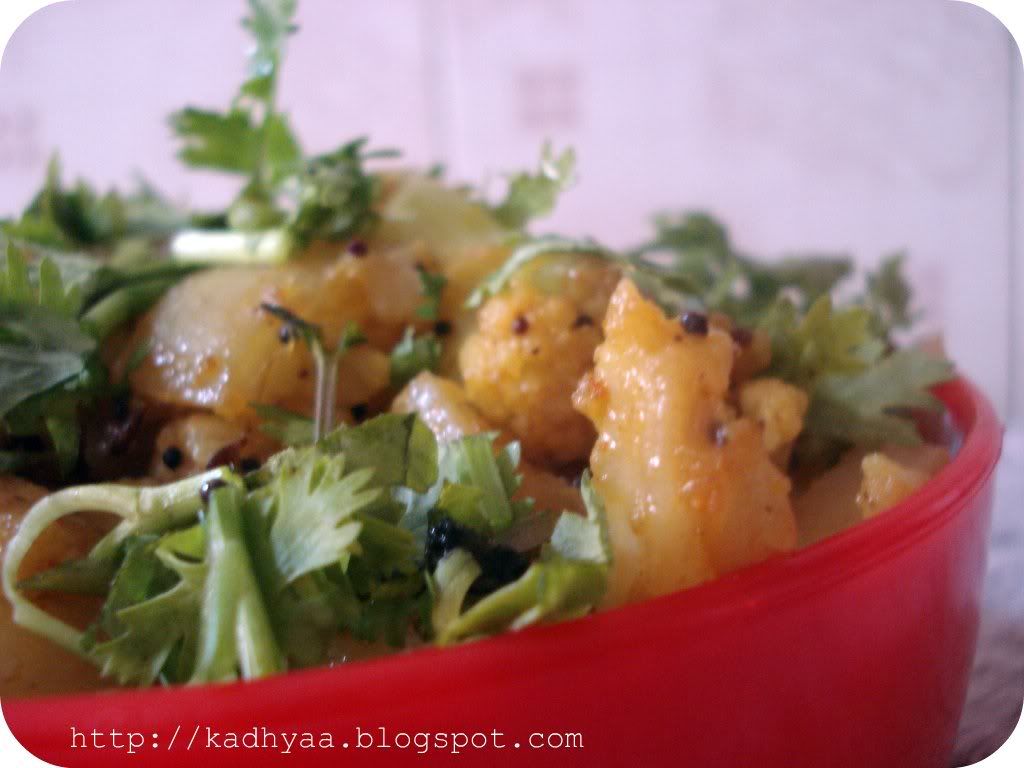 Aloo & Gobi Dry Sabji / Palya
(Potato & cauliflower cooked in Indian spices)
Preparation time: 10 min (excludes the pressure cook of potatoes)
2 medium potatoes boiled peeled & cut into chunks
1 small Cauliflower/ Gobi cut into florets
1/2 Tsp Kitchen King Masala
Coriander seeds to garnish
1 /2 tsp Ginger Garlic paste
Wash
scrub and pressure cook the potatoes in a pressure cooker till boiled. Once done peel and cut into bite sized chunks and keep aside. Meanwhile you chop the tomatoes and onions and keep it aside. Soak the Gobi florets in salt water for about 20 min and pat dry (the salt water help to remove the dirt and worms if any)
Take heavy bottomed small pan and oil and heat the oil. Add the cumin seeds/jeera and wait till it changes is colour and then add the GG paste and keep stirring it till the raw smell of the GG paste goes off. Now add the onion and fry till transparent.
Add in the tomatoes and mix well and sprinkle very little water to combine everything together. Add the turmeric powder, garam masala and kitchen king masala and Kasoori Methi, mix well Let it cook in medium consistency till the tomatoes are mushy and the oil leaves from the side.
Now add in the Gobi and mix well and close the lid let it cook in medium flame for 5 minutes. Pls note that the cauliflower should not be cooked, crispness should be retained.
Finally add the boiled aloo / Gobi and mix well add salt mix well and close the lid let it for about 5 minutes . Finally garnish it with the coriander seeds.
Serve hot with Rice/ Paratha
Notes:
You can omit tomatoes if you want it and add 1/2 tsp amchoor powder