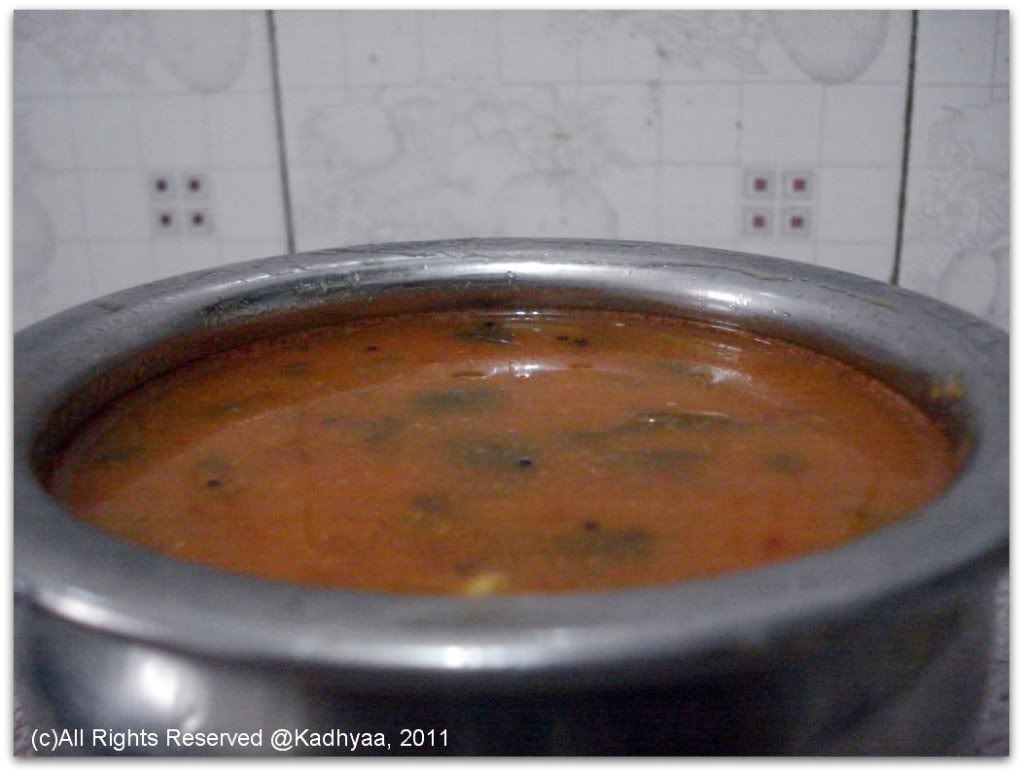 I know you must have raised your eyebrows looking at the titile of this dish. I do not know the meaing or the significance of the name "Kat" mean. This dish is a very simple rasam made without any vegetable and at the maxium you can add tomatoes. But my mom doesnt add any vegetables. I love this saaru because of the spices used in here and the simplicity of the dish.
I had few gusets at home last evening and I didnt have time to cook an elobarate dinner so i modified lilttle bit to the dish and added few veggies to make it. It turned out to be very tasty with the combo of capsicum and drustick and basic south indian spices.
(South Indian Spices cooked with Dal and veggies)
Cooking Time: 30 min (inclusive of Dal Pressure cook)
1/ 2 cup Tour Dal cooked & mashed
1/ 2 cup each of bite size cut
(Tomato, Capsicum & Drumstick)
2 tsp thick tamarind paste
8-10 Red chilli (byadagi variety)
1 /2 tsp Methi / fenugreek seeds
1 / 4 tsp hing / Asafoetida
Coriander leaves chopped to garnish
Heat a tsp oil in a pan and add the red chillies and fry till it fattens and then add the remaining spices and fry till you get the nice aroma of all spices including the curry leaves in a medium flame. Keep it aside and let it cool completely. Add the masala spices and the coconut into a blender and grind into a coarse paste by adding very little water.
Pressures cook the Dal with little turmeric powder and ginger till mashes completely. Boil the vegetable with salt and jaggery separately. Now put together the boiled vegetables and the Dal and mix well.
Add the grounded masala and required amount of water. The Rasam should not be too thin like any other Rasam. Boil for about 10 minutes in medium flame. Put the tampering. Garnish it with coriander leaves.
Notes:
This Rasam should have equal amount of sour, sweet and spicyess