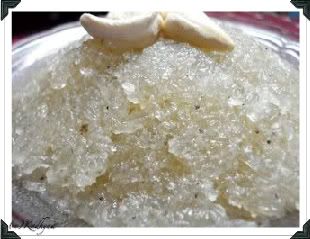 The busy schedule, travelling kept me away from the blogger for 5 days ! I cannot imagine...I feel there is something I have missed out in the due course..SO here I come with yet another recipe. If I confess you that right now I am sitting in my office with my never ending list of pending work and constant reminders and mails from my counterparts and clients and yet I am BLOGGING !!!!!!!!!
It feels me such a immense pleasure to type out this post middle of all these works. This post is very special to me as this is one of my mother's signature dishes.

This is my 50th Post
Raw Papaya Fudge / Halwa
(Raw papaya cooked with milk and Sugar, spices and nuts)
Preparation Time: 10 min
Cooking Time : 30 min
Serves: 4


Ingredients

2.5 cups/ 1 medium grated raw papaya
3 cups sugar
1 tsp cardamom powder
1/4 cup broken/baby cashews
1 cup milk
1 cup water
1/4 cup ghee
yellow food color (optional)


Method

Wash, peel and grate the papaya and keep it aside. heat 2 tsp ghee in a kadai add the grated papaya to it. Fry till the raw smell of the papaya and to it add 1 cup milk and 1 cup water mix well and close the lid. let the papaya cook in medium heat. Keep striring it to avoid sticking it to the pan

Once the papaya is cooked and the water content is absorbed completely from the papaya add the sugar and mix well. now keep stirring it and once the suhar syrup thickenss add the ghee, cardamom, dry fruits of your choice and keep strring it till the ghee leaves from the side / the fudge forms a single mass and easily drops from the laddle.

Serve hot . You can even serve it with a scoop of vanilla ice cream as a dessert. It is very difficult to identify that its papaya halwa.