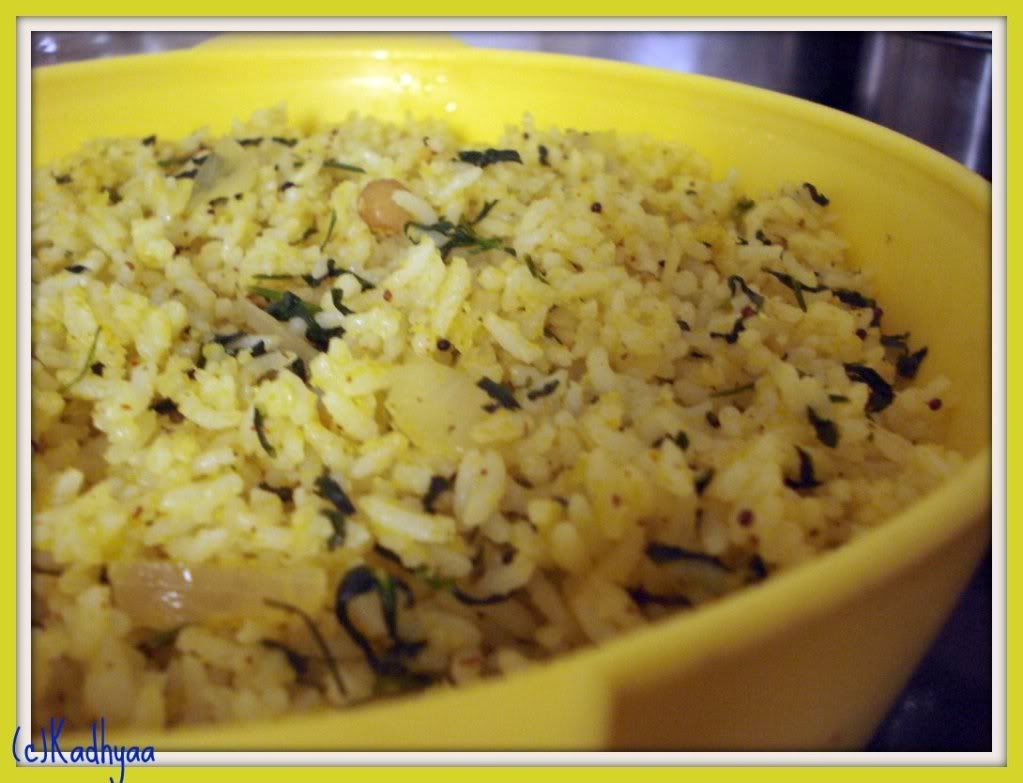 My husband is crazy about the news papers and the magazines so we always end up subscribing more than 3-4 issues of magazines/ news papers including local dailes. I found the following recipes in of such newspapers.

I never liked the Lemon Rice / Chitranna made by mom..but coming to Bangalore thought me various way of lemon rice. Today's lemon rice is made using the fresh methi leaves. You can replace fresh methi leaves to Kasuri methi also.
Methi / Fenugreek Leaves Lemon Rice
(Rice cooked with fresh methi leaves & Lime masala
Preparation Time :20 min
Cooking Time : 10 min
Serves: 4
Recipe Source: Local Newspaper
Ingredients
1.5 cups / 1 big bunch Methi / Fenugreek Leaves
1 medium onion
1 medium lemon/2 tbsp lemon juice
salt per taste
2 cups cooked & cooled rice
2 tbsp oil
1/4 cup ground nut / peanuts/shenga/ nelakadle
2 dried red chilli broken
1.5 tsp musturd seeds
1 tsp urad dal
1 tsp chana dal
1 strand curry leaves
For the Masala
1/2 cup grated/ frozen coconut
2-3 green chillies (increase to spice level)
1 tsp musturd seeds
1.5 tsp lemon juice
1/4 cup chopped cilantro/ coriander leaves
1/2 tsp turmeric powder
For Garnish
1/2 cup chopped corriander/ cilantro
Method
Cook & cool the rice and keep aside. Take the masla ingredients and either dry grind it till coarse or very lilttle water and grind it. Take a heavy bottomed pan to it add oil, peanuts, mustud seeds, urad dal, chana dal redchili and wait till it crackles. Then add the curry leaves and fry for a minute. Add onion and fry it till transulent Add the methi leaves and fry for about 3-4 minutes to remove that extra bitterness. then add the grind masala and fry till the oil saparates from it.
Now remove the kadai from the heat and add the rice, salt, lime juice and mix well. Then switch on the flame in low and heat till the rice becomes hot. Garnish with corriander leaves
Serve hot with Chilli pokoda
Notes
Lemon Rice always tastes better if its spicy;

the lemon rice should be tangy tastes better