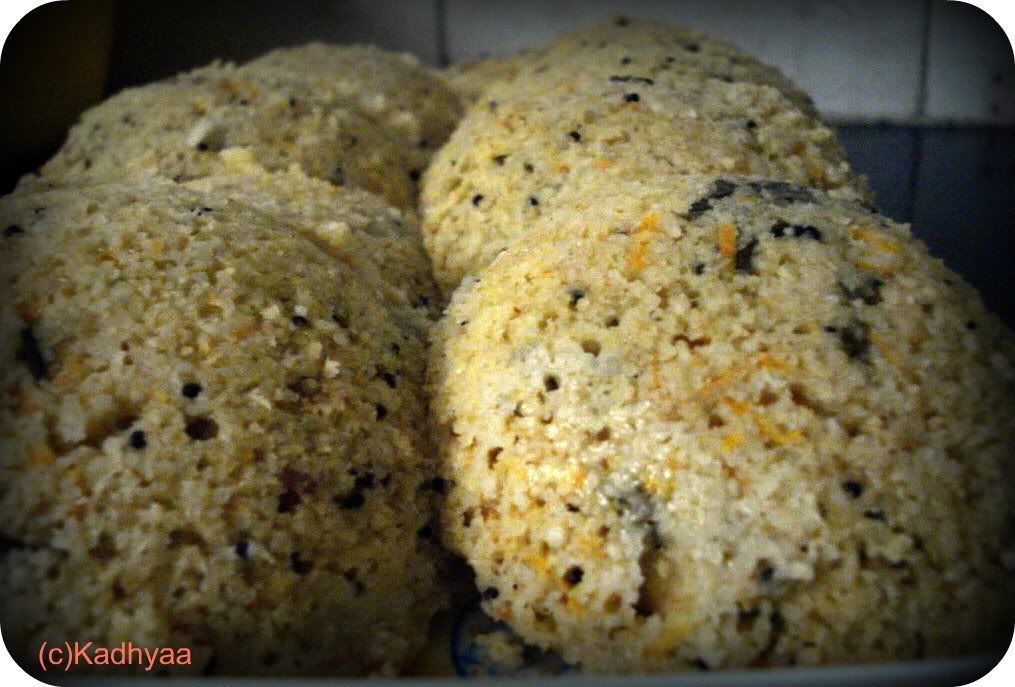 Oats is the least favourite for both of us but my son loves it if I make poridge out of it. I had a pack of quaker oats lying in my kitchen. browsed through all the fellow bloggers pages to see some interesting recipes out of oats and saw
Sharmilee's Instant Oats
which sounded very interesting and easy.
I have made slight modification to the main recipe and the result came out a fluffy, yummy Idlis which was an instant hit at home.
Instant Oats & Rava Idli
(Idlis with no fermataion)
Preparation Time: 20 min
Cooking Time: 25 min
Makes 24 Idlis
Ingredients
1.5 cup Oats (quaker)
1 cups Rava / Sajjige
1 cup thick butter milk (my addition)
1 cup water (as required)
1 medium Carrot grated
1/2 cup Cilantro/Corriander Leaves chopped
2 strands Curry Leaves chopped
Salt per tatse
1.5 tsp Musturd Seeds
1 tsp grated Ginger
1/2 tsp Baking soda
2 Green Chilli chopped
Oil for greasing Idli moulds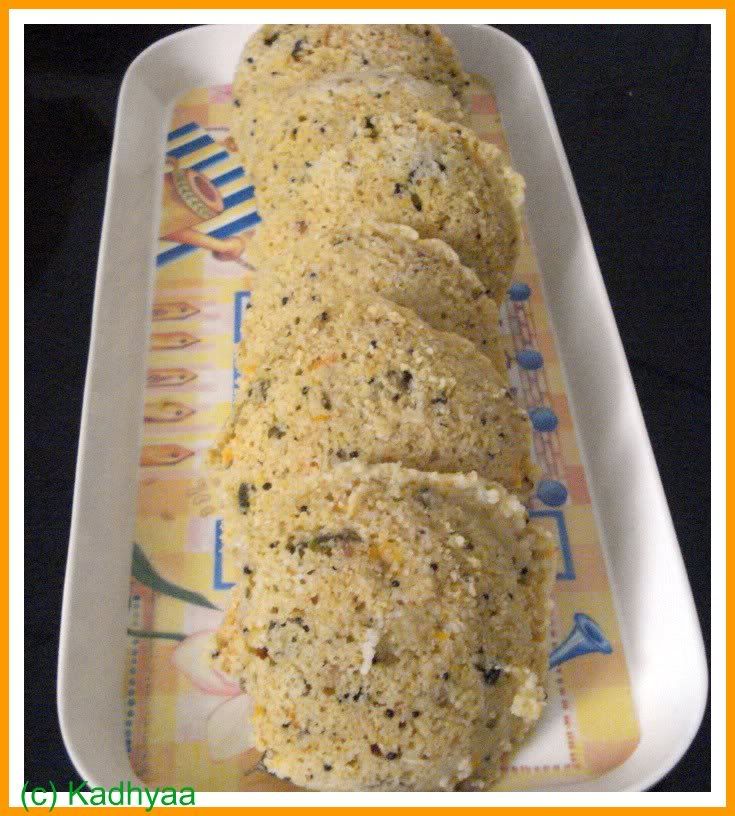 Method
Heat a pan and dry roast the oats and keep it for cooling. Once it comes to the room tempreture powder it in a blender. meanwhile in the same kadai add 1 tsp oil/ ghee and add the musturd seeds and when it crackles add the rava, in low flame and keep it aside. then add the carrot and fry it a bit along with curry leaves, ginger and green chillies.
Add all the dry ingredients together along with baking soda, salt. slowly infuse the wet ingredients. The batter should be too thin or too thick. Grease the idli moulds and pour one laddle full of batter and steam cook the idlis for 25 minutes or until cooked.
Serve hot with your choice of Chutney / sambhaar