Vakrtunda Mahakaaya , Kootisurya Samaprabha
Nirvignam Kurumedeva Sarvakayeshu Sarvadha...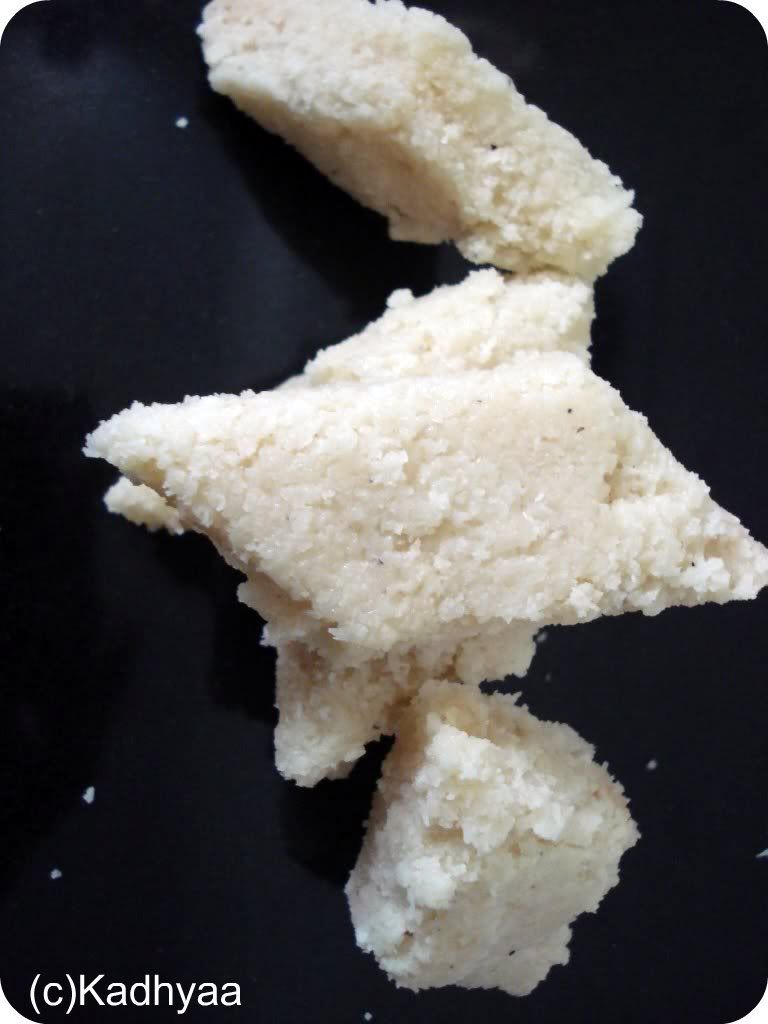 Happy Vinayaka festival wishes to all of you. I am tuned in bit late. The long weekend and I had taken off from work to be with my family and friends on this festival season. The time and the celebaration gave me a handful to resume my blogging. The entire family celebarated the festival in a grand scale and also we had a very joyous moment on this aspicious day as my lilttle brother who is a certified Ayurvedic Practioner now opened his own clinin in my hometown.
Then after a many years the entire family had planned for a picnic for my liltle one to show his favourite lion, tiger and the birds and the it was such a joyful event for him and the entire day he was imitating all the animals, birds.
Now coming to today's is a very simple sweet which I made for my favourite Lord Ganesha. personally this particular festival is very close to my heart as I believe in Lord Ganesh / Vignaharaka
Coconut / Kaayi Burfi / Coconut Fudge
(grated fresh coconut cooked in sugar & vanila syrup)
Preparation Time : 5 min
Cooking Time: 15 min
Makes : 30
Shelf Life: 1 week if refregirated
Ingredients
2 cups / 1 whole coconut grated
1.5 tsp vanila essence/ whole vanila bean
1.5 cups sugar (increase if you want more sweet)
1/4 cup water
3 tbsp all purpose flour (optional) (I omitted) see notes

Method
Grate the fresh coconut and put it into a blender and blend it without any water till all the grates become equal size. Take a pan heat 1 tbsp ghee and to it add the blended coconut and fry till you get nice aroma and all the moisture from the coconut evoparates
Now in a vessel add the sugar and add water just to soak the sugar.Add vanila essence and boil it till sugar is melted and may be five more minutes. (syrup need not be become one string consistency.) Now transfer the entire contents along with the coconut into a microwave safe bowl and mix well without forming a lump.
Keep the Microwave in HIGH, and cook it 7 minutes mixing in between for every three minutes. Once the sugar is disolved completely add the ghee and cook it for another 3 minutes .( the timing depends on your microwave, cook till the entire mixture comes as a single mass)
Grease a plate with ghee and pour the contents. cool it a bit and then cut it into your desired shapes.
Notes:
This sweet does not need any nuts as the coconut by itself is very crunchy

This sweet doesnt need much ghee

The flour adding fastens the entire process if you are making it in the normal mode.