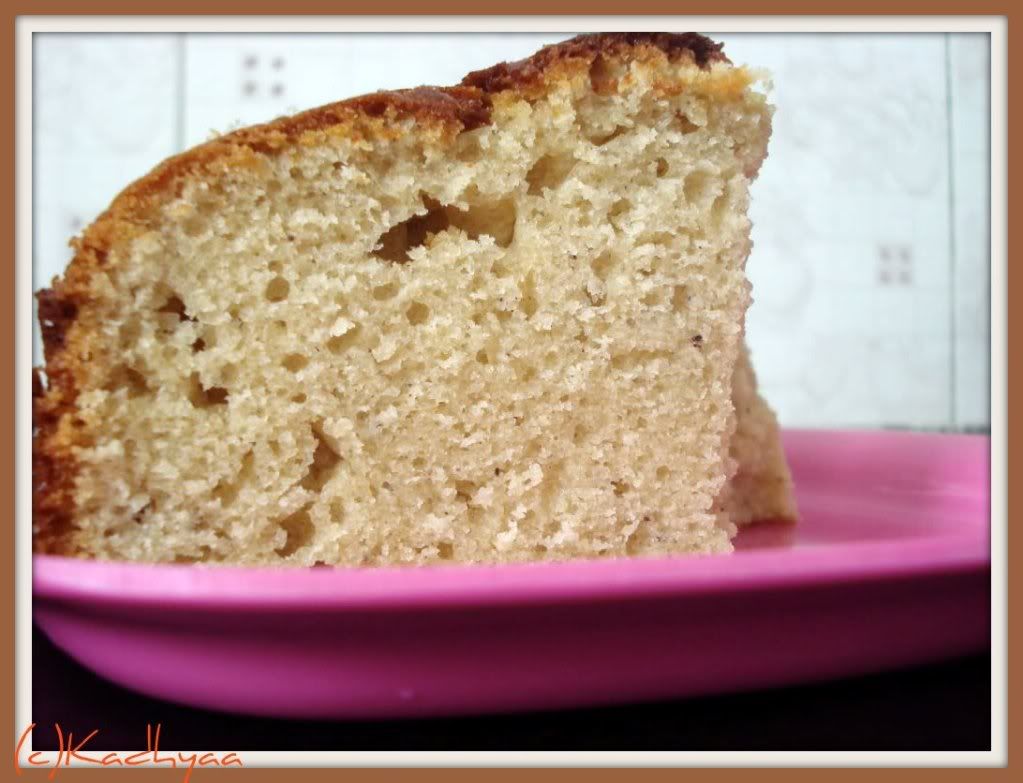 What do u do when you are an ametur baker and preapred batter for "Cinnamon Tea Cake" and the power goes off????? I was in the same position two days ago. I was almost on the verge of crying with all those my efforts going under the drain .... fuming, and cursing the electricity board for everything...Finally the power came half hour later and finally crossing my finger put the batter for baking. My hubby was feeling so sorry for me and assured that he will taste it whatever it turnes out. I really didnt know how the cake is goin to turn out...To all our surprise the cake came out to be perfect soft, yummy..
Both me and my husband wew lilttle apprenhensive about the spice used in the cake. We both do not like the pungent smell of this spice. I had a mind of replacing the spice with simple vanilla but somehow stick to the original recipe.
I adopted this recipe from one of my all time favourite blog
EasyCooking
by Divya. I did liltte variations here and there.

Cinnamon Tea Cake
Preparation Time: 20 min
Cooking Time: 60 min
Ingredients
2 cups Wheat flour (substitute)
1/2 tsp Cinnamon powder
2 tsp Baking powder
1 cup Sugar
1.5 tsp Vanilla Essence (my addition)
1 cup Vegetable oil
1 cup Buttermilk(substitute)
4 Eggs, yolks & white saparated
1 tsp Cinnamon powder
3 tbsp Sugar
Method
Preheat the oven at 180 degree , line the cake pan with butter and flour and keep aside.
Sift together the wheat flour, baking powder, cinnamon powder and keep aside. Take a vessel and add oil and sugar together for 4-5 minutes and then add the egg yolks and beat till the sugar dissolves add vanilla essence and beat well. Beat egg white till the peaks are formed keep aside. Add the buttermilk to half of the flour and beat. Then add remaining flour and the wet ingredients and beat well. Finally add the egg white in slow upward and downward in slow motion till the eegg white is mixed well with the batter.
Add the batter into the pan. Sprinkle the sugar and the cinnamon powder over the batter for the fresh smell of cinnamon. Bake it at 180 degree for 60 minutes or till the toothpick inserted comes clean (baking time depends on your oven, I cook in my connvection model samsung microwave)