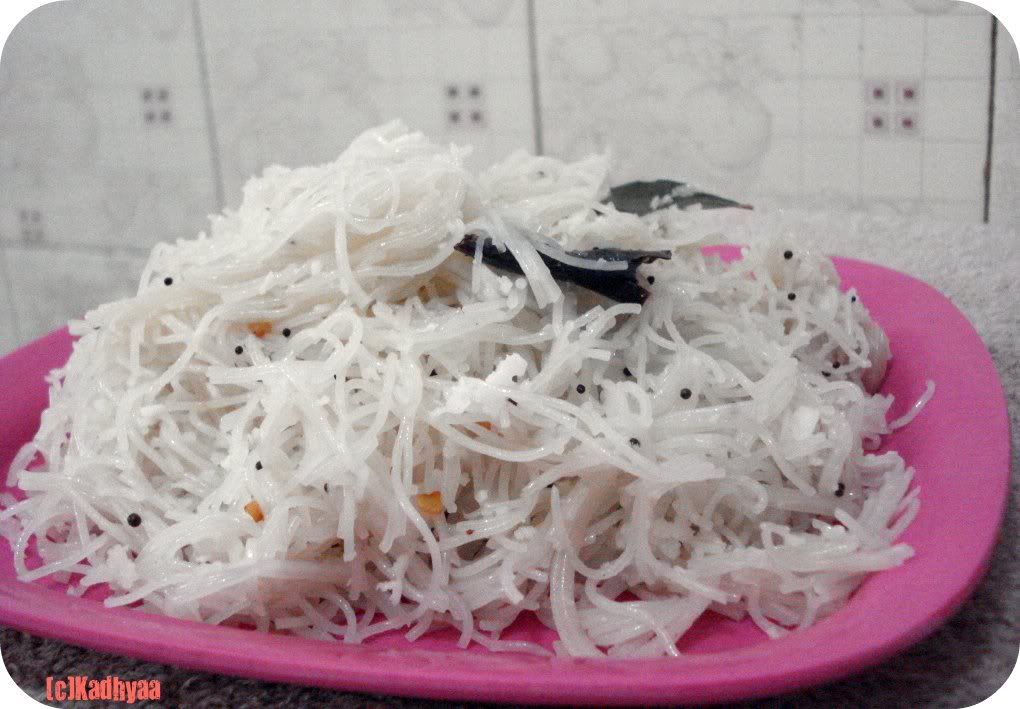 My breakfast preparation is always a plan which i usualy do it on the way back to my house from work. I will usually shortlist three to four dishes and after going home will decide which one to do. if something goes wrong like if i get up late or some emergiences so I always keep handy some ready foods like maggi, cornflakes, otas etc other than that now I keep dosa batter ready for my lil one who loves dosas.
One such morning I love to open these Semiya / Shvige ready for the breakfast which is very easy and yummy. I use "Dragon" brand which is nice compared to other . You do have "Anil" brand in which you get Raagi Semiya's. The term Oggrane a Kannada term mean - "Seasoning /Tampering"
Rice Shavige / Semiya Oggarane
(Rice Noodles with regular tamparing)
Preparation Time : 5 min
Cooking Time : 10 min
Serves: 4
Ingredients
250 gms of broken Dragon Rice Shavige
4 cups boiling water
1 tsp oil
salt per taste
For the Tampering
2 tsp oil
1.5 tsp musturd seeds
2 Red chilli Broken (byadgi variety)
1/2 to 1 inch ginger grated
2 green chillies slit (increase more spice level)
1/4 cup coconut grated
1.5 tsp urad dal
1.5 tsp chana dal
2 strands curry leaves
2 tsp sugar
Method
Break the rice shavige into 1.5 inch piece or more as you like it. Take kadai and put 4 cups of water, salt & oil and boil it and then switch off the flame. Put the broken shavige into it and close the lid. after exactly 4 minutes pour the entire contents of the kadai into a colender and run it under the cold water , and keep it aside.
Take a pan and add oil, broken red chilli, all the dals and wait till the mustrad starts poping. Then add the curry leaves, green chillies, ginger grated and give it a fry for a minute. Now add the boiled shavige into it and switch the flame into low and mix everything together.
add salt if needed, sugar and the coconut grated and fry till the entire mixture becomes hot.
Serve hot and njoy