I have felt or smelt the aroma of baking at home...but always gaped and drolled over the recipes, photos of fellow blogger friends recipes. I have and had a "Bake fobhia" all this while and today was my "D" when I overcame all these hurdles and bakes a Mango Loaf. However this certainly doesnt manke me a Baker or anything. But i must say that the entire experience was so nice with my hubby, my lilttle one helping me here and their. I was crossing my fingers till the loaf baked and we tasted it. It is a whole new are for me where I couldnt do any substitute certainly at the very first Bake. I baked it in my microwave. The original recipe was with mango and banana however I ommitted banana.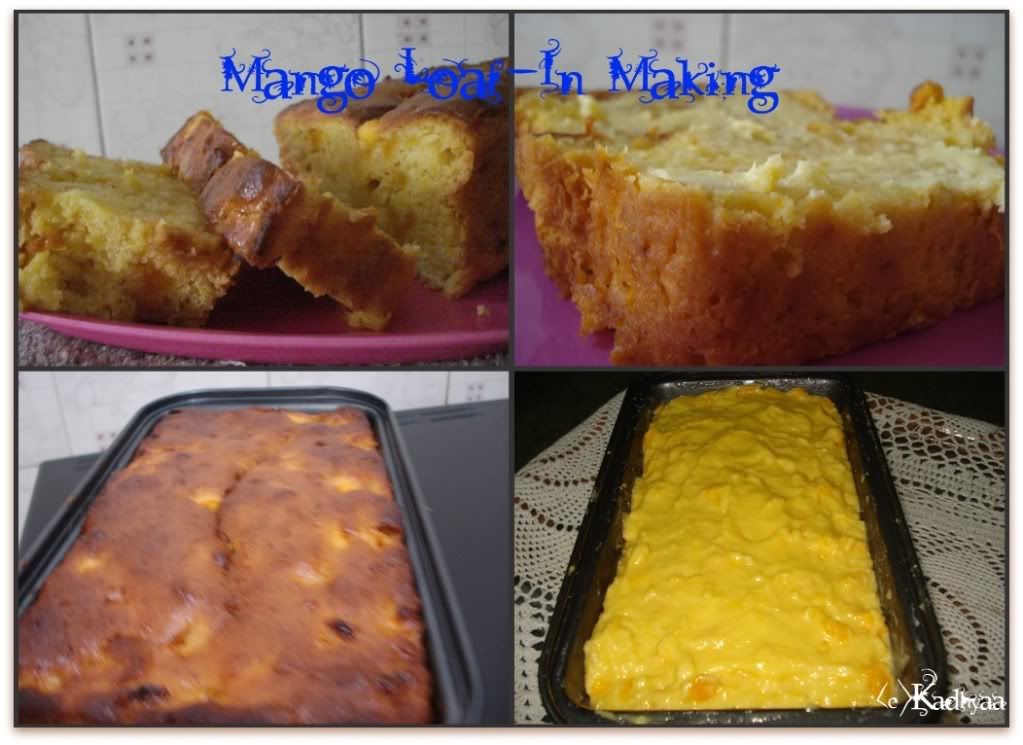 Preparation time: 25 min
Baking Time: 60 min
Serves : 4-6
1 cup Refined Flour/ Maida
2 medium mango chopped
1/2 cup sugar
2 tbsp Oil
1/2 tsp baking soda
1 tsp baking powder
A pinch of salt
1 tsp vanilla essence
chop the mangoes into small bite size pieces. you can puree it also. Sift both the flours, salt, baking soda and baking powder twice.
take another vessel and to it add the curd, sugar, vanilla essence and oil and whisk for about 5-7 minutes or till the sugar disloves completely.
Now pour the wet ingredients into the dry ingredients and mix gently not to form lumps till the everything comes together.
Now grease the loaf pan in oil and pour the mixure into it.
Preheat the oven and bake the loaf for 60 min (till it is cooked) in 180 degree C.
Make sure that tooth pick inserted comes clean.
take out the loaf from oven and let it cool completely in the wire rack.
Enjoy.