Whenever we plan to go out for dinner or lunch the first cuisine that comes to my mind is continental. The ultimate place to have continental food in Bangalore for me and family is it either "Little Italy or "World Cuisine". I love the ambiance, food service and everything about the place.
So from last night my husband craved for having pasta with white sauce. So I planned to make it for him at home. This is my first time with the dish so entire Saturday I was browsing for the white sauce recipes and videos. I was so paranoid the whole night. I didn't have Penne or Spaghetti at home so used MTR Macaroni. The dish became so tasty and got over in few minutes. I was so happy and thrilled about it..so sharing the same with you friends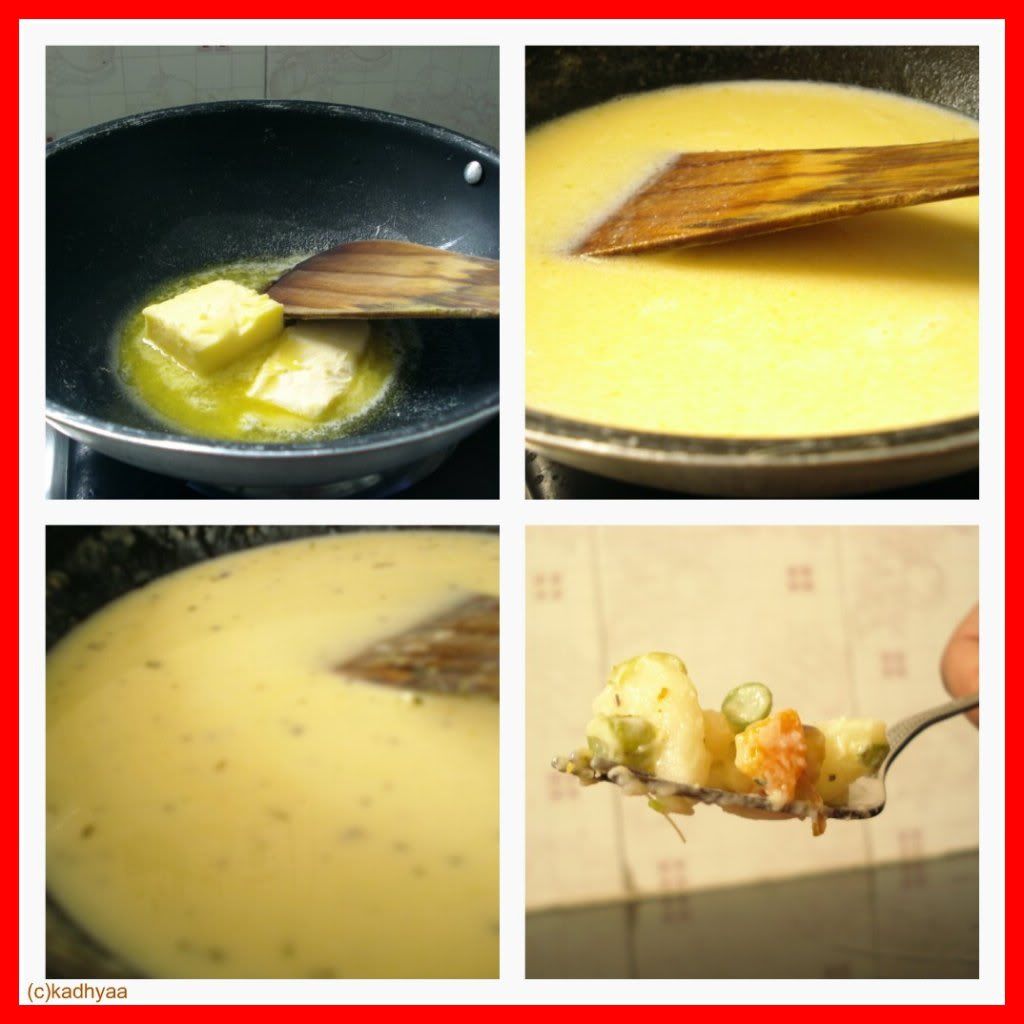 Macaroni with White Sauce
Preparation Time: 20 min
Cooking Time: 10 min
Serves:4
Ingredients
2.5 cups Macaroni (MTR)
1/4 cup carrot cubes
1/4 frozen peas
1/4 cup capsicum
2 tsp dried thyme,oregano,basil mix/pizza seasoning
salt per taste
4 cups of water
1 tsp oil
2 garlic chopped
1 medium onion chopped
1 tsp red chilli flakes
1.5 tsp extra Virgin oil
For The White Sauce
2 tbsp unsalted butter
2 tbsp flour
1.5 cups milk
salt per taste
1.5 tsp pepper powder
Method
Boil the macaroni as per packet instruction by adding 1 tsp oil/butter & salt with 4 cups of water. Once the Macaroni is boiled empty it into a colander and run under the cool water, drain and keep it aside.parboil separately all the vegetables in microwave.
take a heavy bottomed pan to it add the 2 tbsp butter and let it melt in medium flame. Once the butter is melted add the flour. (to avoid it forming lumps I removed the butter from the gas and added the flour and mixed the flour mixing it by clockwise and anticlockwise ) Put the mixture back into the low flame and fry it for a minute to remove that raw smell of flour. Be careful the flour should not change color. Then to it add the milk and mix it well. And let it slowly cook in a low flame till the sauce boils. I did a running consistency sauce so didnt boil it too much. To it add salt, pepper and the pizza seasoning. let the the spice infuse into the sauce well. Keep it aside.
Now take a kadai and to it 1.5 tbsp extra virgin oil and add the garlic and onion and fry till it becomes brown. Add the 1 tsp pizza seasoning / strands of thyme, oregano and mix well. Add all the boiled vegetables and mix well. let it sit for a minute or two. then add the prepared sauce and mix well and let everything boil for a minute. Finally add the macaroni and toss everything together. switch off the flame. Serve hot.
Notes:
You can add cheese of your choice for the extra richness;
If you want thick sauce then reduce the milk