After my first
Eggless Mango Loaf
which was a instant hit I have been hooked to baking and have been baking so many things and relishing. One of of much awaited bake was banana loaf and I was browsing for a yummy recipe.
Edible Garden
by Nags is one of my all time favorite blog. I found a yummy Eggless Chocalate Banana Pound Cake. Here is my version which turned out very yummy.
Eggless Chocalate-Banana Loaf
Preparation Time : 20 min
Baking Time :60 (microwave convection mode)
Ingredients
Dry Ingredients
250 gms / 2- 1/2 cups whole wheat flour / plain flour
1-1/2 tsp Baking powder
50 gms (~4 tbsp or 1/4 cup) Cocoa powder
Salt – 1/2 tsp
Wet Ingredients
250 gms (1 1/4 cups) -Sugar
250 ( 1/4) cup gms Butter
1 cup pureed ripe banana
2 tsp baking powder
1 tsp Vanilla essence
1/2 cup milk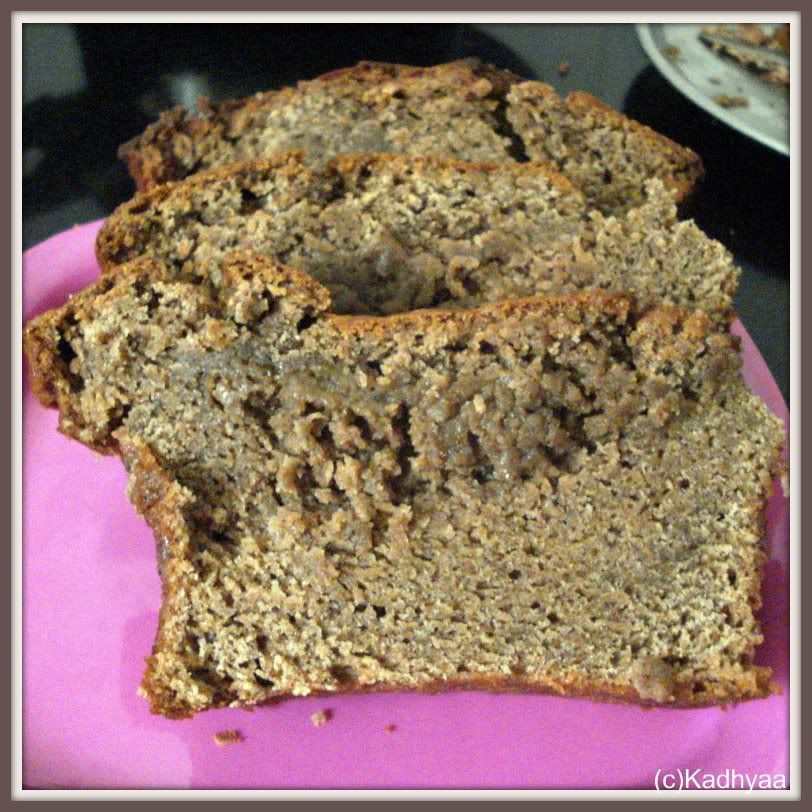 Preparation
Put the Banana puree in a vessel and to it add the baking powder and mix well and keep it aside. Sift together flour, cocoa powder, baking soda and salt. set aside.

Whisk together the butter and sugar well together for about 4-5 mins. Add the vanilla essence and beat well. Now add the beaten banana mixture to the sugar-butter mix and beat well till everything has come together.
Now put the wet ingredients into the dry ingredients slowly.Beat well till everything comes together. Add the milk at last to acquire the batter in droppin consistency.
pour the batter into the loaf pan and bake it for about 50-60 minutes.
I used my Samsung Convection model to make this loaf so it took me 60 minutes to bake.