How is your mood especially after a long weekend and a quality time with the family..So I am in the same state of mind..I had got this weekend after 3 whole moths..so I was so so looking forward for this weekend. The one more important thing what we did this weekend is we left our Lil one with my parents back in the native place for few days. It was a difficult time for me and my hubby while we are back in Bl ore. But this decision was after a prolonged debate with my parents this decision was taken and trust the life and house feels so....so..empty and we both feel that we have lost very important part of life...miss him so much , his toys, his dress reminds of him so much. Hope the days just flies and he is in our arms so soon..
Rice items are a common and staple diet at home. and among that Capsicum Rice is my fav all time . I prepare rice in two versions. Today i prepared it in a different version with my own masala mix. Came out very well, so sharing with all:
Capsicum Rice
(Sauteed capsicum with steamed rice and ground spice powders)
Preparation Time: 15 min
Cooking Time 20 min
Serves:2-4
Served with: Raitha of your choice, Chutney
Ingredients
1.5 cup Capsicum cut into bite size pieces
1/4 cup Onion cut lentghwise (optional but recommended)
2-3 green chili(adjust to spice level)
2 cups Cooked & Cooled Basmati/Sona masoori Rice
1/4 cup fresh/frozen green peas
salt per taste
2 tbsp oil
2 tsp lemon juice
For the Masala
1 cup redchilli (bydagi variety)
1/4 cup coriander seeds
1/4 cup jeera/cumin seeds
2 tsp methi seeds
1/2 cup peanuts/groundnuts
1 tsp mustard seeds
2 handful of curry leaves
2 tbsp cashew nuts
1/2 tsp turmeric powder
For the tampering
2 tbsp oil
1 tsp mustard seeds
2 red chili broken
curry leaves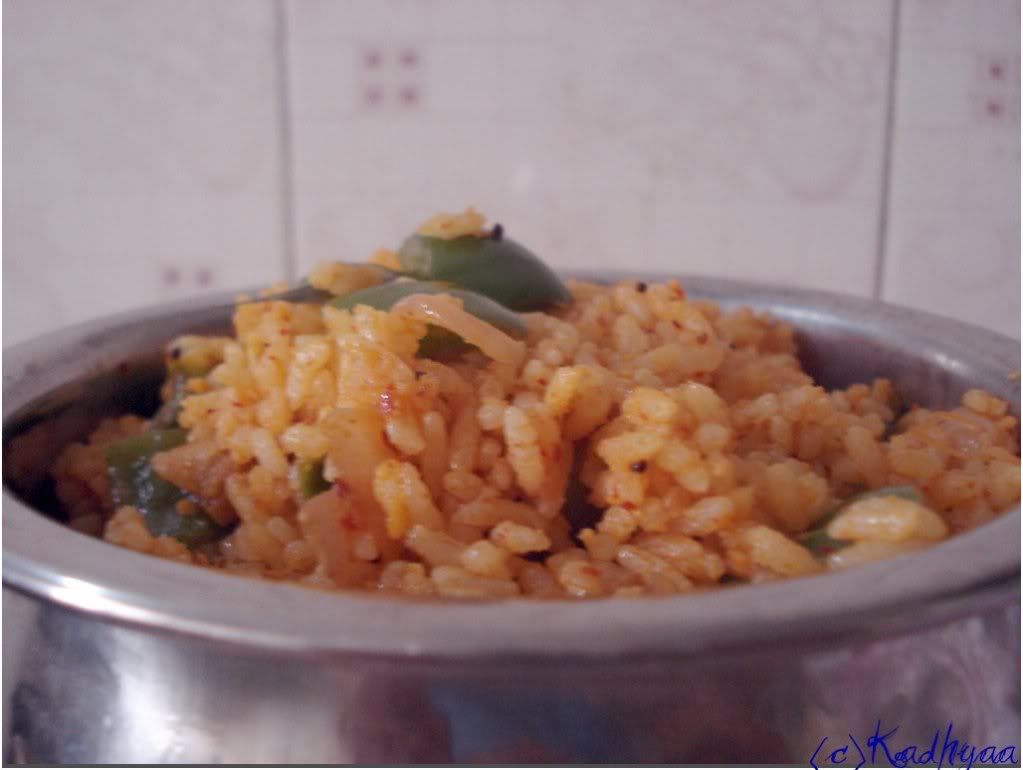 Method
Take a pan add oil once it is hot add the red chili and the peanuts and fry it for few minutes i.e. just when the redchilli changes its size. Then add all the remaining masala ingredients and fry until you get a nice aroma (Red chili becomes crisp and peanuts cracks);let the masala ingredients cool down then put in a mixie jar and grind it into without adding water to smooth powder. You can store the masala in a airtight container.
Pressure cook the rice and keep it cooled. Take a thick bottomed kadai and add oil and all the tampering ingredients except the curry leaves. Just when mustard seeds crackles add the curry leaves, onions and green chili , fry till onion is translucent. Add the capsicum and fry it in high flame till the capsicum just begins to Wilt. The color should not change and the crunchiness should remain. Add 2 tbsp of the masla mix and mix well and fry it for more seconds till every things comes together.
Remove the kadai from the flame and mix the rice, salt and lemon juice. Mix everything nicely and heat it in a low/medium heat till the rice is hot.
Serve it hot with raitha or chutney.