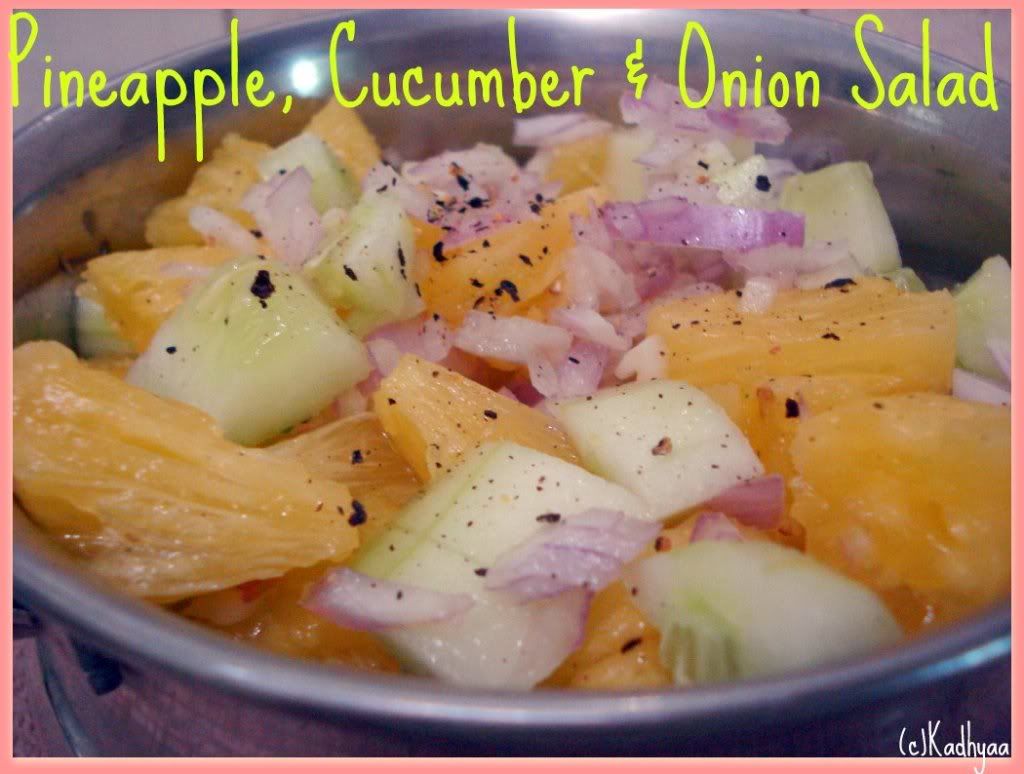 When you are home after the work tired, hungry, irritated and constant calls from the client on the delivery of the work & comments, stinkers how do you feel? Certainly I am not in my moods and cooking a lenghty dinner/meal is impossible. What's the comfort food then. I would prefer a bowl of soup/fruit bowl/glass of juice and the list is on..
One of such evening I made this salad and guess what we both are on the diet to shred the extra fat. So here is a simple salad what we had
Pineapple,Cucumber & Oinion Salad
Preparation Time : 15 min
Dressing Time : 10 min
Serves:2
Ingredients
1 large pineapple chunks
1 large cucumber chunks
1 medium onion chopped
For the Dressing
1.5 tsp black pepper crushed
sat per taste
1.5 tsp lime juice
Method
Cut the pineapple, cucumber into bite size pieces and chop the onion finely
Garnish it with the dressing
Serve and joy.
Notes
Pineapple to tend to give you irritation in the throat and cold adding the salt and pepper reduces the irritation

Do not add more onions . it takes of the taste of the salad.

If the pineapple is sour in taste avoid the lime.