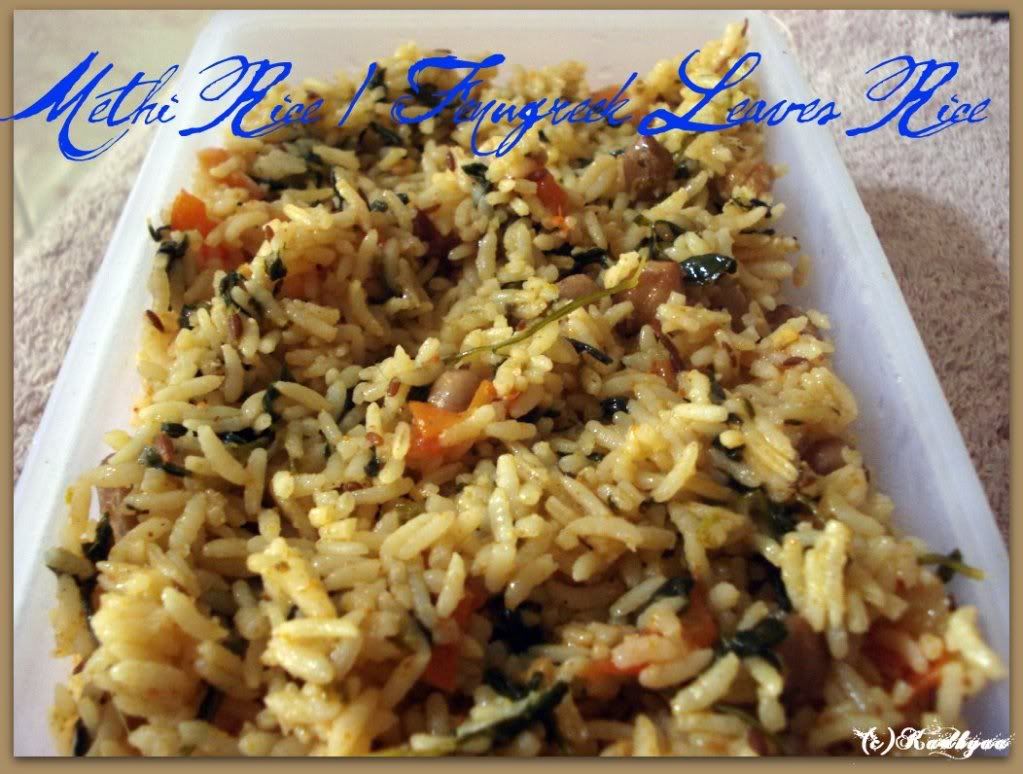 Monday morning and monday blues are always there for me...Iam so sick of getting up early in the morining on a Monday morning after a lovely and realxing weekend with my lil one. Its always nice to be with them and watch them grow every day with their new tasks which are always makes us to raise our eyebrows. My amma tells that the present generation is very fast growing with that extra "IQ" with god knows from where....
Dropping him in the day care is such a pain in the morinng especially when you see those running teares it just stops me from taking a step ahead but the days just goes like that.
I love going for grocery shoopping with my lil one now. Love his expression and the way he helps me to to pick up his veggies and greens. The one place where I dont stop myself in spending and always end up buying extra than required.
Methi / Fenugreek Leaves Rice Bath
(Methi Leaves, Tomato & Rice cooked with Mixed Spices)
Preparation Time: 20 min
Cooking Time: 15 min
Serves :2-4
Served with: Raitha / Curd
Ingredients
1.5 cups trimmed methi/ fenugreek leaves
1/2 cup chopped tomatoes
1/2 cup onions thinly sliced
1/2 cup pea nuts/green peas
1.5 cup sona rice/ basmati
1.5 tsp lime juice
salt per taste
2tbsp oil/ghee
3 cups of water
For the Masala
6-8 red chilli
1 tsp corriander seeds
1/2 tsp jeera/cumin seeds
1/4 tsp methi seeds
2 tbsp pea nuts/ground nuts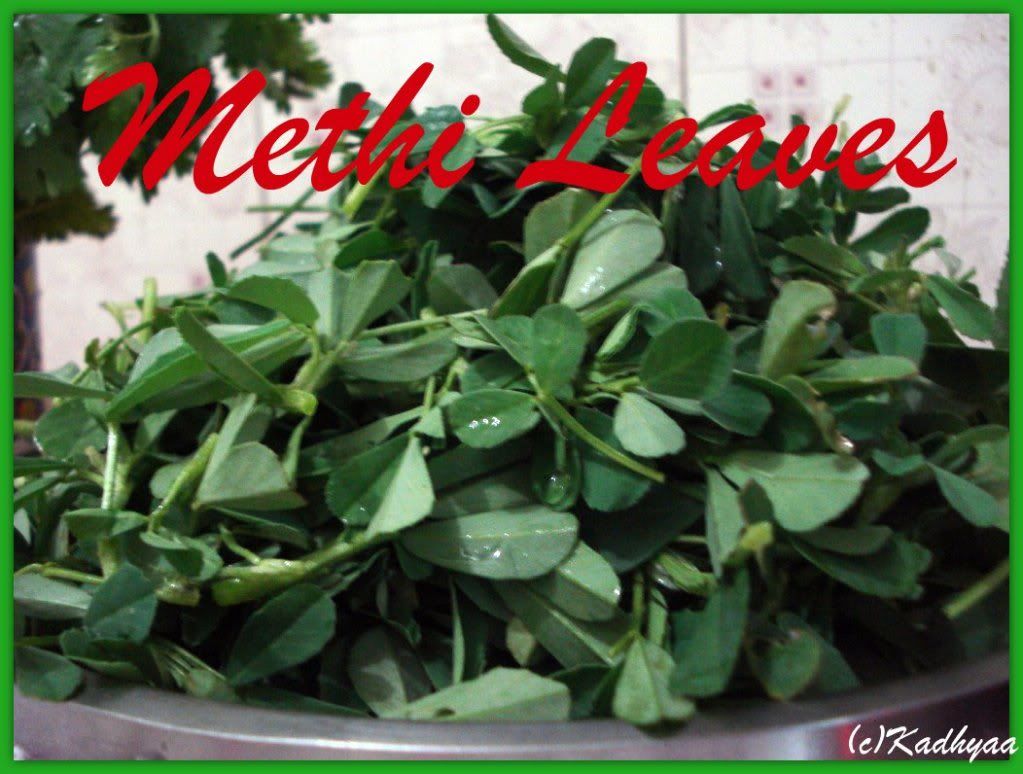 Preparation
Wash, clean and take only the leaves of methi and keep it aside. Chop the tomato and cut the onions and keep aside.
Meanwhile take all the masala ingredients and fry it in 2 tsp oil till you get a nice aroma. The pea nuts should be fried nicely removing that raw smell. You can also fry just the red chilli and pea nuts intially and when they are half done add the rest of the ingredients. Once done and cooled completely, powder it into a fine powder.
Take a pressure cooker and the ghee and let it become hot. Add the onion and fry it till it becomes light brown and add the methi leaves and fry for abot 5 minutes to remove that extra bitteness. Add rice and fry it till you get a nice aroma from it.
Add water, tomato, green peas/pea nuts salt and mix well.
Finally add the masala powder and mix well and close the lid.
pressure cook for till 2 whistles. and when cooled remove it. add the lime juice and mix well with wooden laddle inorder to avoid the rice becoming mushy when hot.
Serve hot with your choice of raitha/chutney/pickle.