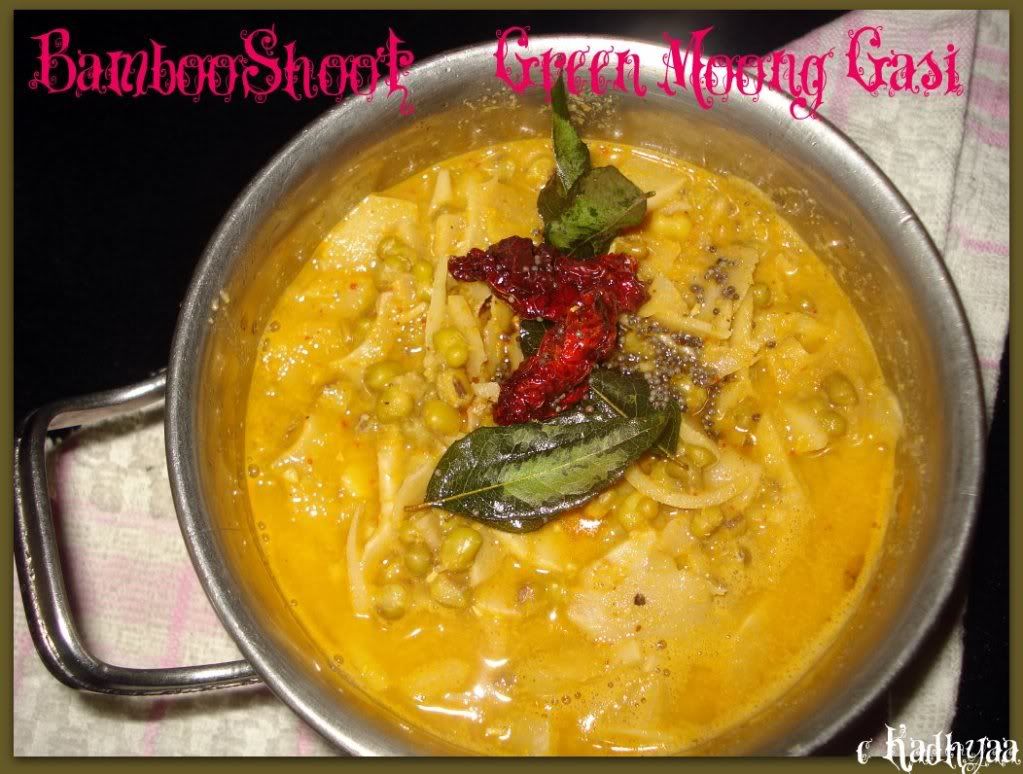 Bamboo shoot has become an integral part of kitchen for this season. All these is bought from my mom' s place which is cleaned and frozen.
The famous combo in our community with bamboo shoot is green moong. Bamboo shoot supposedly increases the body heat and moong Dal is cold in nature and the combination works as neutral. No wonder our grandparents always ate such a balanced food and lived a healthy and long life :)
Bamboo shoot & Greenmoong Gasi / Gashi
(Bamboo shoot & Greenmoong cooked with coconut & spice thick gravy)
Preparation Time: 15 min
Cooking Time: 20 min
Serves: 4
Served with: Steamed Rice / Chapati/Roti/ Pulka
Ingredients
1.5 cup bamboo shoot chopped
1 cup green moong soaked overnight
1 medium onion cut
salt per taste
2 tbsp jaggery grated
For the Masala
1 cup grated coconut
8-9 red chili byadagi variety (increase it if want more spicy)
1.5 tsp coriander seeds
1/2 tsp jeera/cumin seeds
1/4 tsp methi/ fenugreek seeds
1/2 tsp turmeric powder
lemon sized tamarind
1.5 tsp garam masala
1/2" ginger
Tampering/ Seasoning
2 tsp oil
1 tsp mustard seeds
1 strand curry leaves
3-4 garlic cloves
Method
Soak the green moong overnight and cook along with the Bamboo shoot with salt & jaggery, you can pressure cook till two whistles.
take all the masala ingredients and grind it into a fine paste. Add the masla into the cooked vegetables and mix well adjust the thickness. Note the gasi should not too watery.
heat the oil, add garlic and let it roast a bit then add the remaining seasoing ingredients and wait till the mustard crackles. Add it to the Gasi and let it boil for 5 more minutes.
Serve hot with Rice/Chapati/Roti