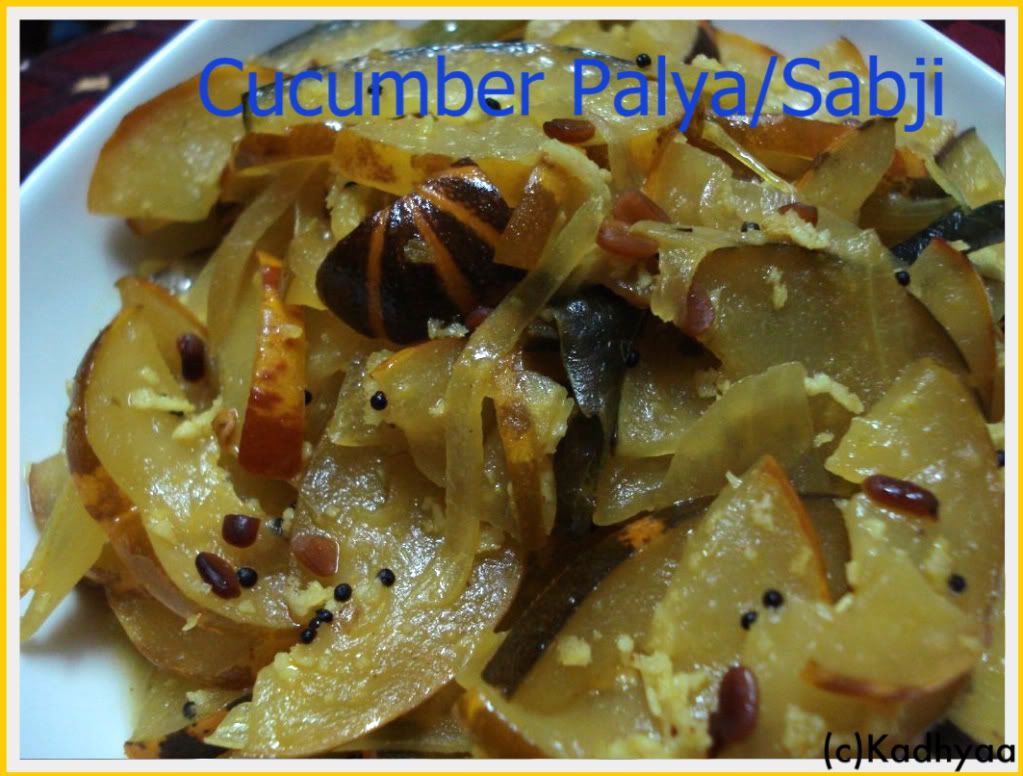 Most of the times at the end of the day we feel like having a comfort food. So our minds dates back some of the traditional, authentic dishes cooked back at home from my respective mothers. Whenever I buy this particular veggies which is known as "Mangalore Cucumber / Sambhar

Cucumber " in Bangalore, reminds me my mom who cooks very well dishes out of this veggie. Here is one of the delicacy which I learnt from her.
The only thing you have to careful with this veggie is that it tends be bitter sometime. So always check before cooking it. the easiest way to remove the bitterness is
Soak the cut pieces in para boiled/boiled rice washed water for about 15 to 20 min

Soak the pieces in salt water for about 15 to 20 minutes
Cucumber/Southekaayi Palya/Sabji
(Cucumber dry sabji cooked with basic spices and coconut)
1.5 cup sliced/thinly cut Cucumber
1/2 cup thinly sliced Onions
2 tbsp grated fresh Coconut
Wash and cut the cucumber thinly and keep it aside. Take thick bottomed pan and the Tampering ingredients except the curry leaves. Once the mustard seed starts crackling add the curry leaves, give it a fry;
Add the onions and fry till translucent. Add the green chili, cucumber and give it a fry and mix properly everything. Then 1/2 cup water and mix properly.
Once the water starts boiling add the salt, jaggery, turmeric powder and mix well and close the lid and let cook for about 10 minutes. Then add the grated fresh coconut and wait till the cucumber is cooked. You need not worry if you put more water and cucumber tend to leave water. This sabji tastes better with little watery.
Serve hot with Steamed Rice :)